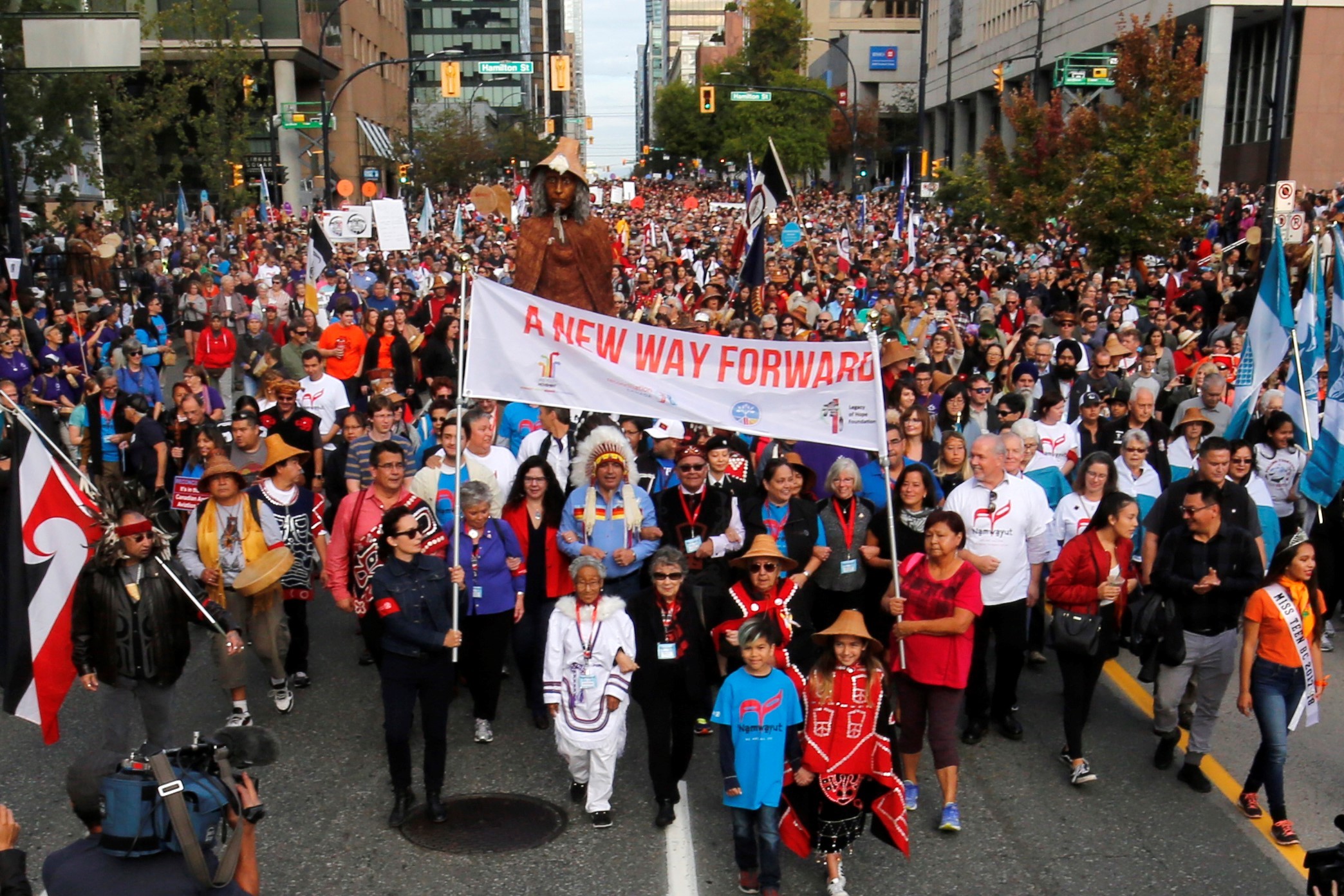 Photo: Tim Matheson
News and Updates
National Arts Centre's Grand Acts of Great Hope
Siiye'yu
(friends, relatives)
https://nac-cna.ca/en/video/gagh-siiyeyu
A Grand Act of Great Hope Presented by the National Arts Centre
Mortal Coil Performance and Tsatsu Stalqayu (Coastal Wolfpack) are honoured to announce their participation in the National Arts Centre's Grand Acts of Great Hope.
We are thrilled that our ten year collaboration is being celebrated and hope you'll follow along in the next steps of this unfolding journey.
As we edge closer to a new normal, a powerful sense of hope is surging. To celebrate each step we take, the National Arts Centre English Theatre, English Theatre Artistic Director Jillian Keiley has again teamed up with Sherry Yoon, Artistic Director of Boca del Lupo (Vancouver), as Co-Curators of Grand Acts of Great Hope.  Together they have brought together some of the country's most inventive artists to create and perform innovative new works with Grand Acts of Great Hope.
For this initiative, Ms. Keiley and Ms. Yoon issued an open call for proposals, which prompted exciting submissions from a large swath of companies and artists.  From that call, five works from locations in British Columbia, Alberta, Saskatchewan, Ontario and Nova Scotia were chosen to be showcased for Grand Acts of Great Hope. We are delighted to be one of those five.
For more information, please link to the NAC Grand Acts of Great Hope page, and to our website.
Coast Salish Stories (September 2020)
Mortal Coil is pleased to announce that the BC Arts Council, The Canada Council and the City of Vancouver has awarded the company project grants for 2020 to continue working with Tsatsu Stalqayu on the animation of more Coast Salish Stories.  In addition to continued work on Our Creation Story, we are (re)searching more stories to develop that can be translated to the stage through our unique partnership.
Our Creation Story
Mortal Coil continues to partner with Tsatsu Stalqayu (Coastal Wolfpack) on our joint project, Our Creation Story, where its most recent presentation was at the Talking Stick Festival on February 17 and 24, 2020.  The Wolfpack also performed with Meh at the opening gala on February 20.
We were thrilled to perform our new co-production of Our Creation Story at the Museum of Anthropology on July 19, 2019 and at the Vancouver International Folk Music Festival on July 21, 2019.  This new adaption of a Tsarlip First Nation story is being especially created for the stage with song, dance, puppets and masks, will incorporate our Coast Salish puppet Meh as the Xe:ls, the Transformer/Creator, and tells the story of the birth of the land and the animals that live on it.
Tsatsu Stalqayu and Meh performed a concert on the mainstage at the 42nd Annual Vancouver Folk Music Festival, on July 21, 2019.
We are also pleased that Meh, will return as the welcoming figure at the Museum of Anthropology's Audain Gallery summer show, Shadow, Strings and other things after his gig at the Folk Music Festival.  The show runs to October, features puppets from around the world and is highly recommended.  (Puppet movement and body designed by Che Campbell, Barb Clayden, Peter Hall, Frank Rader, with regalia and clothing designed and traditionally woven by Coast Salish artist Iona Paul.)

First Welcome - Hych'ka
Mortal Coil is proud to be partnering with North Vancouver's Presentation House Theatre on First Welcome - Hych'ka.  A Celebration of 1st Meetings between people, cultures and species, this community based summer long project will culminate in a day long event on September 30, 2017 at Waterfront Park in Lower Lonsdale.  The day will include Mortal Coil's stilted characters, the large puppet, Uzume Taiko, Tsatsu Tsalqya (the Coastal Wolf Pack), community choirs and a sharing of stories, food and performances. 
During the summer, the Giant Puppet will be appearing in many local events from Richmond to North Vancouver to Vancouver's Granville Island.  Mortal Coil will also be offering mask, stilt and puppet making workshops throughout North Vancouver. 
Gulliver Puppet
We were honoured to launch our new Gulliver Puppet at the Musqueam Reserve on National Aboriginal Day, June 21, 2016.  Inspired by the title character in Jonathan Swift's classic novel, he will be an integral part of our next summer's production.  Please note:  this puppet has since been transformend into Meh, above.
The Faerie Play - August 5 - 15, 2015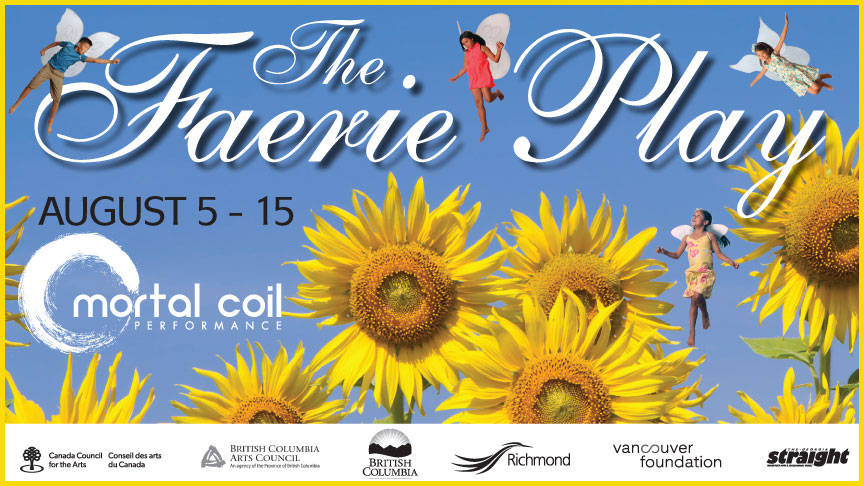 We are proud to be partnering with the Sharing Farm and the City of Richmond on a new site specific production for children and families about the many - seen and unseen - lives that are found on a working farm. For more info on the show The Faerie Play and for tickets, please go to Brown Paper Tickets.  The showgoes ahead, rain or shine!
New Logo!
Get a load of our new logo!  Designed by the multi talented (and font genius) James Glen, we love our new look.
Innovations Award - May, 2014
We are thrilled that we have received an Innovations award from the BC Arts Council in the most recent round of funding (January 2014).  This grant is for the development of a large puppet (think over 12 feet) that will eventually be part of a production of Gulliver's Travels. 
We've moved!
We've moved our offices to the new Arts Factory at 281 Industrial Avenue.  We're thrilled to be a part of such a wonderful project and look forward to working next to everyone who will be in the building.
What They Are Saying
The company's creative and original work can be presented to audiences in theatres, at festivals and at site specific events. We also develop and teach classes, workshops and lecture/demonstrations on the performing arts to the general public, educators and professional performers.
"Every ounce of grownup cynicism and tension was gone, replaced by this weird, familiar feeling of childlike wonder.
That is the magic of Mortal Coil's new site-specific work, The Faerie Play."
» Andrea Warner, The Georgia Straight
"Hands down, the most bizarre, bewitching and wildly creative performance of the day."
» Jo Ledingham, The Georgia Straight
"One of the most magical groups Vancouver has to offer...they delighted crowds... and danced with seemingly impossible balance."
» The Burnaby News
"Watching Mortal Coil was like floating, untethered in the work of Marc Chagall...the delight they invoked in me was childlike and completely luxurious."
» Colin Thomas, The Fringe Review